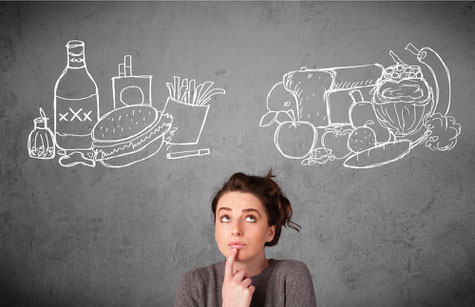 Do you find information about healthy nutrition quiet confusing? And has following a healthy diet become a kind of stress for you? Are you somehow stuck in your eating habits and overthinking them?
I am an experienced nutrition scientist and nutritionist specialised on nutrition psychology. I can advise you independently to
get clarity on what is really healthy nutrition
understand where and why you are stuck in certain eating habits
become more self-empowered to change your nutrition
feel much freer when deciding about what, when, how to eat and feel less restricted, guilty, or fearful
Whatever you share, you will be provided a trustworthy context.
My practice is located in Binningen next to Basel and easy to access by public transport.
The approach comprises different aspects which have proven to be essential for nutrition counseling:
a clear explanation of a healthy diet (nutrition education) and the impact of healthy nutrition on your wellbeing and your body
body focused approach which means

explaining the body´s impact and the body´s stress on your eating behaviour, for example calming yourself down by eating
making you more sensitive for the signs of your body such as hunger, thirst, satisfaction, low blood sugar, or craving without being hungry

practical help and tools to make you more sensitive and aware in order to enable you to help yourself (empowering you)
my empathy as well as trustworthy frame to share and work together
Holistic approach in nutrition counselling means that we will have a look on your nutrition within the context of your body, emotions, needs. Therefore, a body oriented psychological approach is needed, as your body and your unconsciousness eating habits often represent unspoken messages about your desires, your needs, as well as your conflicts. We might even see the connections between your eating habits and what you experience in life. Thus, you will have a chance of even experiencing a personal development. In fact, the so induced personal development will provide - vice versa -  the fundament for changing your eating habits. It is a change that comes from inside by being self-empowered.

disordered eating such as

craving
experiencing never-ending phases of restricted eating (strict diets) with possible weight loss alternating with phases of eating attacts and possible weight gain

overthinking such as what to eat, how much to eat, what to trust so that it takes a marked amount of energy and time in your daily life
being strict with yourself and your ideas of how to eat as well as feelings of guilt and possibly even shame in case you fail to fulfill your ideal
eating disorders such as anorexia, bulimia, binge eating, orthorexia,night eating, secret eating
obesity as well as diseases like hypcholesterolemia, diabetes etc.
I have been continuously studying and trying to understand human´s eating behaviour. 
Not only are people by so much contradictory information outside. If they finally set goals how to eat, they experience problems and are even desperate in trying to apply a better eating behaviour. There is a connection between our more or less healthy eating patterns and stress which can be explained by aspects of neurobiology as well as bonding or relationships.
I love to share my knowledge to let people recognise their patterns and vicious cycles and enable them to help themselves.  For me, it is a pleasure to see people even grow personally. 
For the first session, I would like to see you in my practice, if possible. In case of follow ups, we will agree on what works best.
I offer face-to-face consultations in my practice in Basel as well as video and phone sessions.
At the moment, I am fully booked and cannot offer appointments for new clients in 2021. From January 2022, I will probably have new capacaties. Please, have a look on my online booking system or contact me via email.
My service is for clients who are willing to pay themselves. Or, if you have a so called Zusatzversicherung, you can ask your insurance, if they are going to support you. The method "westliche Ernährungsberatung" is approved by the EMR.
For more information on prices, please see here. I am an independent nutritionist.
Patients with prescription from the doctor are kindly requested to contact me first via the contact form. 
Do you have any questions? Do not hesitate to contact me.
Özlem Schader has made an incredible difference to my health and well-being. She listens, looks at the situation holistically, and gives an easy-to-follow personalized eating structure. She is very empathetic as well as knowledgeable, which I found to be the perfect combination when dealing with issues around food intolerance, pain, illness, weight and stress. I would highly recommend her as a dietician. S. M. 6th of February 2021
---
Note: this website is currently being updated and revised (7.2.21)